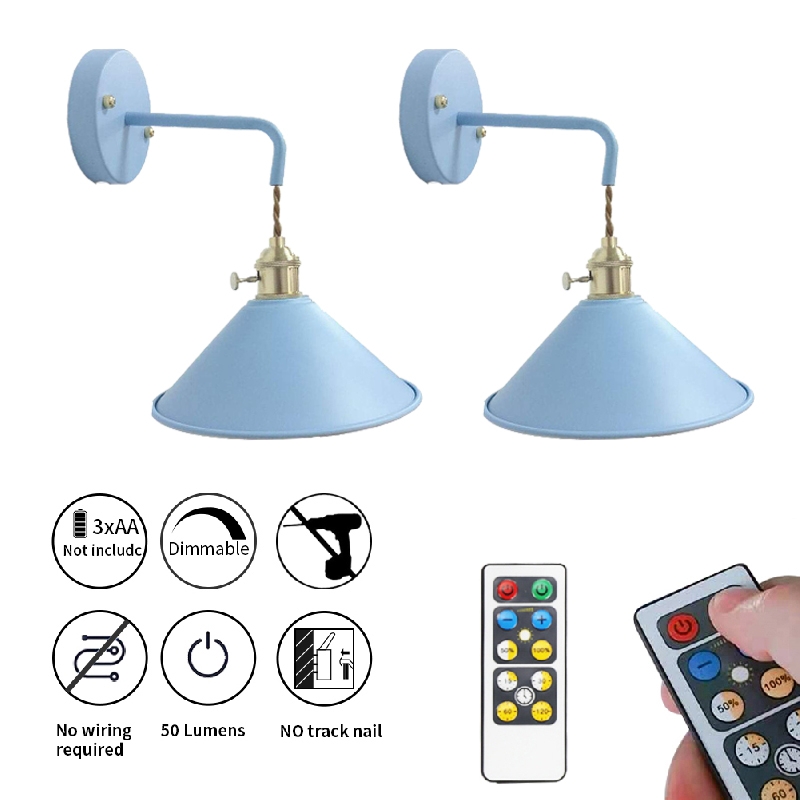 NuNulamp 2-Pack LED Battery Operated Macaron Blue Wall Sconces Wireless Wall Sconce Light Fixture for Rental house and Renovation
Product Number: BD0226-BL-DCx2
$113.99
1、 LED WALL SCONCE, 2 PACK - battery-operated wireless wall light, a practical and functional indoor lighting solution to illuminate spaces in your home where there is no power supply. Includes 2 wall sconces
2、SUPER EASY WIRELESS INSTALL - Hammer the nail into the wall and hang it through the round hole above the lamp. a smart choice. These sconces are invaluable for power outages
3、Design Style of Retro Industry- is an ideal bedroom wall sconce for reading light, as well as for your living room, office, vanity area or bathroom, hallways, corridors, closets and other dark areas
4、LED BATTERY POWERED LIGHT - the long-lasting LED lights are powered by 3 AA batteries with a 100 hour run time, batteries not included; Adjustable light and timing
5、SOFT GLOW - the ambient downward facing white cone-shaped shade creates an ambient and warm glow in your home, making it a perfect decorative accent and reading light; 55lumens
How to use this product: https://youtu.be/g7DdZknIhQs
Brand:NuNulamp
The Wireless LED battery wall lamp With Remote is super bright at 55 lumens .
Use a remote control to turn on/off the wall light up to 15 feet. Use a remote control to control up to 12 wall lights.Use the default dimmer button to set the brightness to 50% or 100%, or use the - or + button to select the exact brightness level. There is an optional timer that can automatically turn off lights in 15, 30, 60 or 120 minutes. The lamp uses three AA batteries (excluding them) and runs for more than 100 hours.
Sometimes when you live in on old house with plaster and stone walls you have to think outside the box when you're decorating. That's what we did when we built our powder room out of a closet, and what we had to do with the wall sconce that I wanted to hang in the kitchen.