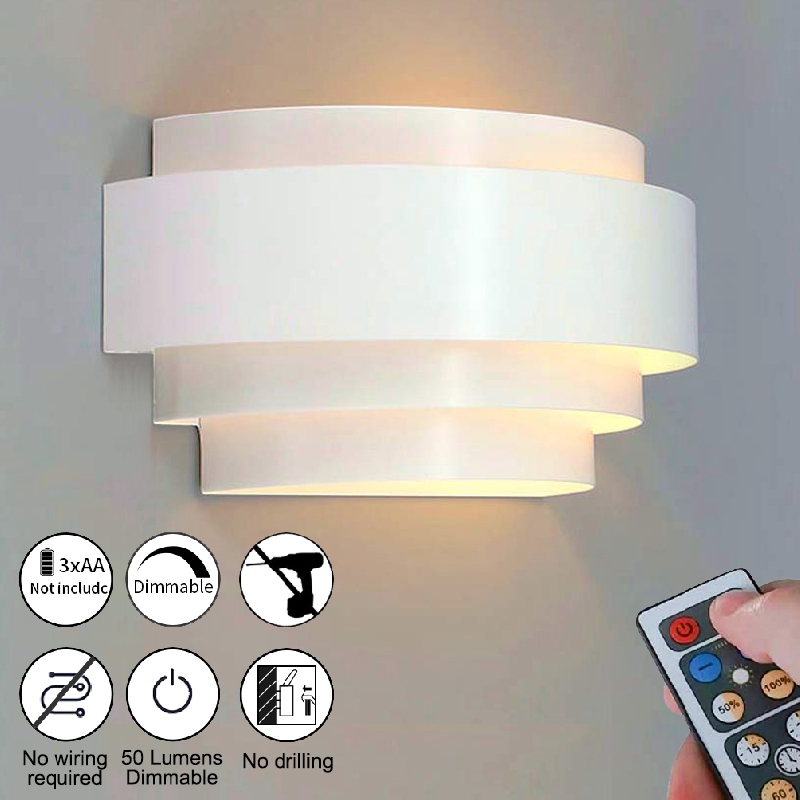 Nunu Lamp LED Rechargeable Battery Operated DIY Wireless Hook Up with Remote Control Lighting Fixture Wall Sconces Modern Metal Shade
Product Number: DCBD0744
$49.99
★Package included: Wall sconce+ stick on Rechargeable Battery LED bulb+ remote control+ mounting parts.
★LED battery operated: Lights are powered by Rechargeable batteries with a 100 hour run time. Turn the puck lights ON/OFF with the remote or the tap lens.
★No wiring required: Wireless lighting fixture. These are invaluable for power outages.
★No drilling: Easy installation, hook up with seamless nail. Hammer the nail into the wall and hang it through the hole above the lamp. Make the lamps more flexible and convenient.
★Suitable for hallway, living room, kids room, bedroom, bathroom, corridor, balcony, stairs etc.
★Produce size: Length 250mm/9.8'' x Height 132mm/5.2'' x Depth 105mm/4.1''. No flash, soft lighting, eye protection. Light source diameter: 3.38" (8.6 cm).
Sometimes when you live in an old house with plaster and stone walls you have to think outside the box when you're decorating. That's what we did to solve this lighting problem.
• The lamp uses three AA batteries (sold separated) and runs for more than 100 hours.
• No wiring and drilling required. Install with seamless nail easily. Suitable for marble surface / splint / stone, no outlet power supply.
Use a remote control to turn on/off the LED puck light up to 15 feet. Can control up to 12 lights at the same time.
Dimmable, use the default dimmer button to set the brightness to 50% or 100%. There is an optional timer that can automatically turn off lights in 15, 30, 60 or 120 minutes.
55 Lumens, 3000K warm white lighting will give a harmonious and comfortable feeling for your kids or family.
Modern and simple wall lamp. It may not be bright enough to be a main light, but it will be really nice decoration, even can be a night light.
Perfect for living room, kitchen, dining room, bedroom, stair, balcony and hallway.