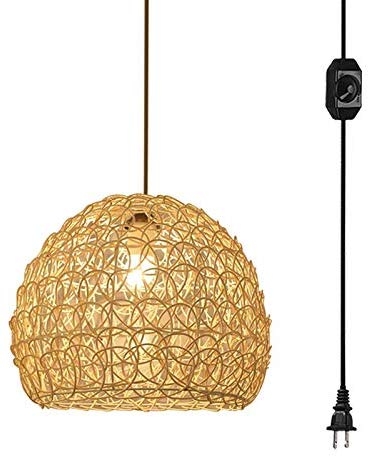 KIVEN Rattan Hollow Lampshade Ceiling Lamp with 15ft Plug-in UL On/Off Dimmer Switch Cord Retro Style Bird's Nest Shade Pendant Lamp for Southeast Asia Restaurant Cafe Cabinet Bulb Sold Separately
Product Number: TB0706-4.5M
$75.99$128
Lamp size: Φ9.84"/25cm.

The pendant light comes with pre-wired On/Off dimmable switch cord and 1 pack of hanging accessories.

It's made with an pre-wired dimmable switch, plug-in cord and adjustable to design the hanging height and create the perfect effect.

Come with plug-in cord and necessary hanging accessories, long enough to hang in any situation you desire. Good design for indoor party or moving.

It is suitable for restaurants, bars, front desk, living room, convenient, simple, easy to change, can match a variety of decoration style.

Specifications:

Lamp size: Φ9.84"/25cm.
Bulb Type: E26(Bulb sold separately)
The whole wire length is 15 ft(4.5 m)
The distance between switch and plug is 20 inch(50cm)
With a UL Listed Plug-In Dimmable Switch Cord.

Style: Simple Style/European Style/Vintage/Loft/Minimalist/Steampunk
Applicable Space: 10-15 Square
Application: Study Room, Bedroom, Living room, Dining-Room, Sitting Room, Bar, Hallway, Cafe, Shop, Balcony, etc.

Please contact us if you have any question on installation or any electrical issue.
Both lamp sockets are CE and UL approved
If you are not sure how to install the item, please refer to a professional electrician