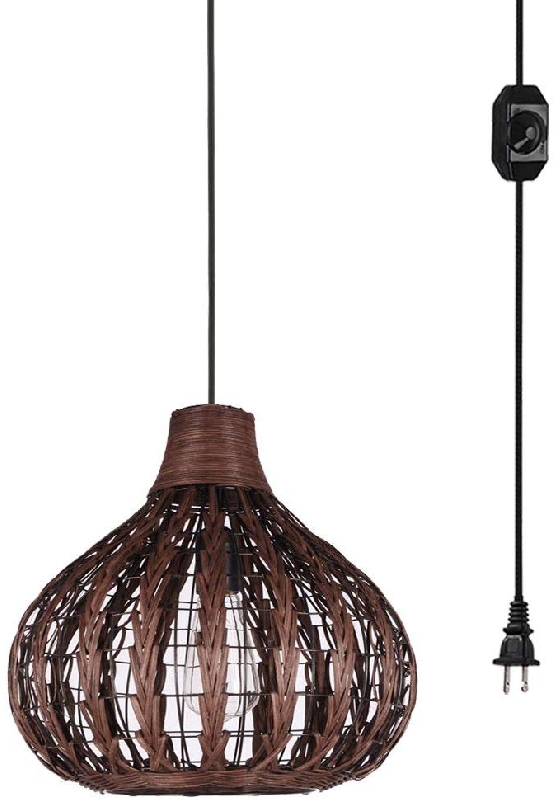 kiven Kiven Handmade Weaving Brown Color Bamboo Rattan Chandelier Pendant Lighting Hollow Lampshade E26 with 15ft UL Listed Plug-in Dimmable Switch Cord Bulb Not Included
Product Number: TB0241
$89.99$202
Lamp size: Φ13.8"/35cm, height: 12.6"/32cm

Package includes: 1 Pendant light with On/Off dimmer switch cord、1 Pack of hanging accessories

Installation Free - Come with 15 feet plug-in cord and necessary hanging hardware, long enough to hang in any situation you desire. Good design for indoor party or moving

Dimmable and Adjustable - It's designed with an in-line dimmer switch, E26 base socket and adjustable plastic plug in cord to customize the hanging height and create the perfect ambience

UL Standard Listed - All the sockets, wires of the pendant light are comply with UL standard

Specifications:

Lampshade diameter is 13.8"/35cm
The whole wire length is 15 ft(4.5m)
With a UL Certification Plug-In Dimmable Switch Cord. The distance between switch and plug is 20"/50cm
Bulb Type: E26/E27(Bulbs Not Included)
Source Type: Incandescent bulbs
Material: Bamboo/Wood

Style: Simple Style/European Style/Vintage/Loft/Minimalist/Steampunk
Applicable Space: 10-15 Square
Application: Study Room, Bedroom, Living room, Dining-Room, Sitting Room, Bar, Hallway, Cafe, Shop, Balcony, etc.

Please do not hesitate to contact us if you have any question on installation or any electrical issue.
Both the light bulbs and lamp holders are CE and UL approved.
If you are not sure how to connect the cables safely and competently, please refer to a professional electrician.

Feel free to ask me any question and enjoy shopping in Amazon!