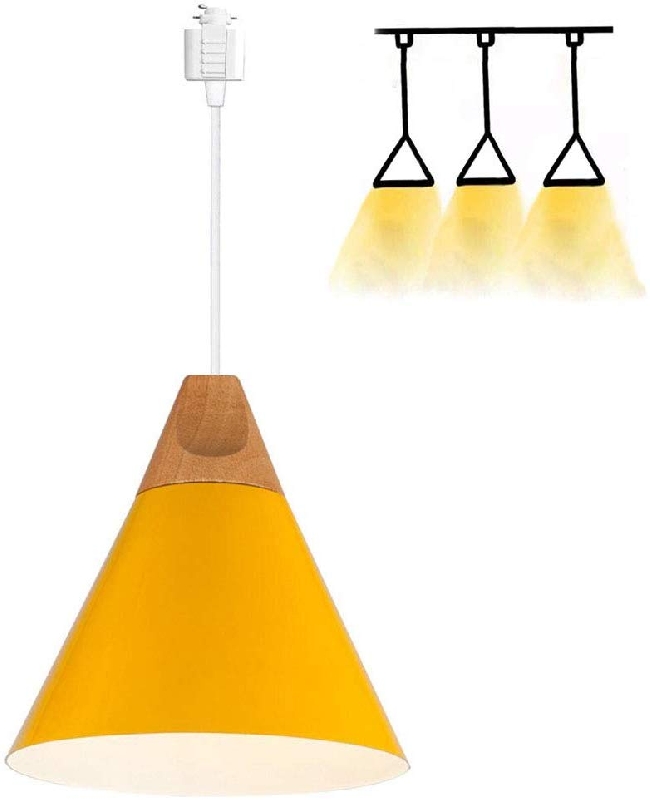 kiven H-Style Track Mount Pendant Fixture Yellow Scandinavian Style Pendant Lights for Kitchen Hanging Lamp - Modern Wood and Aluminium Light
Product Number: TB0107-Y
$45.99$99
The track head is a single circuit 3-wire ("H") system. Many current projects require or specify a 3-wire system. It is easier to ground, and has more accessories than the other systems. Also, it is 100% compatible with HALO, which makes substituting really easy.

The diameter of lampshade and wood 22 cm (8.66 inches),Standard Pendant height is 31.5"(From the socket to the bottom 15" long). Custom made is provided :Please email us cut to your length no extra charge.

Easy installation :The connectors at the top of the cable lock in to H-Type track lighting system with a 90 degree turn to lock it in place.

This listing is for one Light Track light fixture,no track included.

All electrical components are UL listed. Standard ceramic bulb socket (E26).
Color:
Yellow
| Size:
8.66"
With this H-Track Pendants you have the unique opportunity to smother your home in waves of elegance and style. These pendants blend perfectly into both modern and classic mood settings and offers a new dimension of possibilities for your interior design plans.

Specifications:
Light base :E26 Screw socket
The diameter of lamp shade is 8.66 inches,Standard cable length is 80 cm (31.5 inches). Custom made is provided :pls let me know if you need to custom a different length!
Wiring type: H-type 3 wire track light
Bulb Type: Incandescent/ LED(Bulbs not Included)
Material:A gorgeous combination of wood and aluminium.
Style: Clean and modern Scandinavian take on interior lighting.
Applicable Space: 10-15 Square
Application: Study Room, Bedroom, Living room, Dining-Room, Sitting Room, Bar, Cafe, Shop, kitchen, etc. CUSTOMER GUARANTEE - We guarantee to replace any damaged products for free.

Orders of 10 or more may qualify for a bulk discount. Please message me prior to purchasing

If you need help or other special requests, please emails us via < ymx_stg001@163.com >