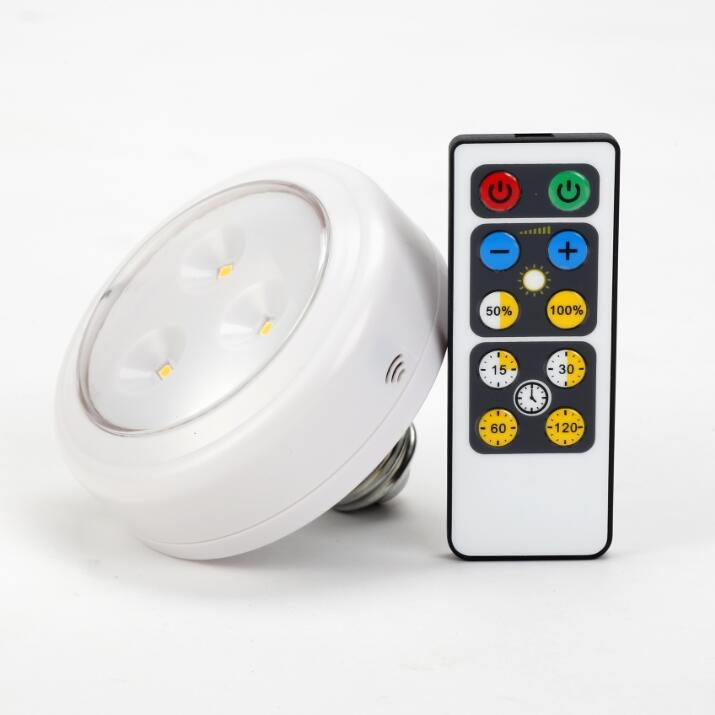 2-Pack NUNULAMP wall decor battery lamp Wireless LED Puck Light With Remote Control how to make a diy wireless wall sconce 3 AA batteries (not included)
Photo Wall, Light Supplement, Bathroom Mirror
Product Number: BQD001x2
$29.99
1. Light source diameter: 3.38 in (8.6 cm)
Product height: 1.25in (3.2cm) (Dimensions excluding lamp holders)
2. Application Scenario: Used in luminaires, battery power supply. Suitable for scenes with no wires on the wall, flexible lighting
3. E26/E27 lamp holder, 3 AA batteries (excluding) are recommended to use rechargeable batteries (rechargeable products are under development and can contact us by mail if necessary).
4. Product light distribution, timing remote control
5. 55 LUMENS - Super bright, long lasting LED s. 3000K warm white glow. LED s never need to be replaced
How to use this product: https://youtu.be/g7DdZknIhQs
Note: When choosing a light fixture you'll want to make sure the opening on the shade is wide enough to fit the puck light inside. The Wireless LED Puck Light for wall lamp E26/E27 With Remote is super bright at 55 lumens .
Use a remote control to turn on/off the LED Puck Light up to 15 feet. Use a remote control to control up to 12 hockey lights. There's also an ON/OFF shot. Use the default dimmer button to set the brightness to 50% or 100%, or use the - or + button to select the exact brightness level. There is an optional timer that can automatically turn off lights in 15, 30, 60 or 120 minutes. The lamp uses three AA batteries (excluding them) and runs for more than 100 hours. It runs four times longer than other battery-powered hockey lamps.
HOW TO INSTALL A LIGHT ANYWHERE
How to make a DIY wireless wall sconce with a battery operated puck light.
Sometimes when you live in on old house with plaster and stone walls you have to think outside the box when you're decorating. That's what we did when we built our powder room out of a closet, and what we had to do with the wall sconce that I wanted to hang in the kitchen.