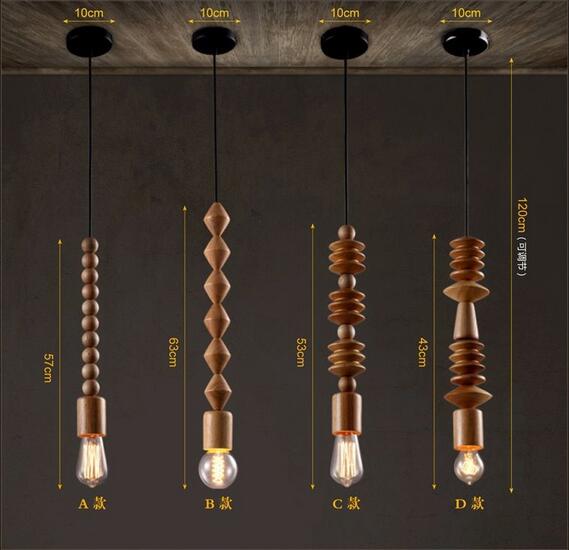 Kiven Wood Industrial Inspired Pendant Light
Product Number: TB0007-A
$31.99
A statement fixture,this wood industrial pendant light will light up your room with modern style featuring wooden beads

Comes with wood beads made of natural hard bead and round ceiling canopy finished in black, this rustic wood bead mini single-light exposed Edison bulb pendant light rounds out your room with their vintage look

Infuse your kitchen or dining room with the rustic style of this pendant light to accent your personal interpretation of chic style.

Height:47.16"(120 cm)

Voltage:110V Not including the bulbs

With a lot of artistic breath,this Wood Pendant Lamps are favored by more and more people in the world. The fashionable design and delicate workship are the bright spot of this light. This unique stereoscopic diamond design makes your bedroom more tasteful. This is not only a simple lamp,but also a delicate adornment for your room.
Comes with wood beads made of natural hard bead and round ceiling canopy finished in black, this rustic wood bead mini single-light exposed Edison bulb pendant light rounds out your room with their vintage look. Matched with the suggested bulb that illuminates warm and gentle light, it will meet both functional and aesthetic requirements. With an adjustable cable, you can freely set the height of this light fixture at your preference. Infuse your kitchen or dining room with the rustic style of this pendant light to accent your personal interpretation of chic style.
We are a professional lighting manufacturer, working to provide the best quality and the most abundant variety of lighting products. All products in the factory have undergone rigorous safety tests, ensuring that you can use them safely.
Installation Tips:
1. For safe and secure installation, please ensure that the electrical box to which this fixture will be mounted is properly attached to a stable part of the structure.
2. As all wires are connected, when unpacking the fixture, be careful not to mishandle wires as damage can occur, resulting in a bad power connection.
3. Do not connect to power output until the fixture is fully assembled.
To reduce the risk of fire, electrical shock, or personal injury, always turn off the fixture, unplug it, and allow it to cool before replacing the light bulb.
Do not touch bulb when fixture is turned on. Never look directly at a lit bulb. Keep flammable materials away from lit bulbs.