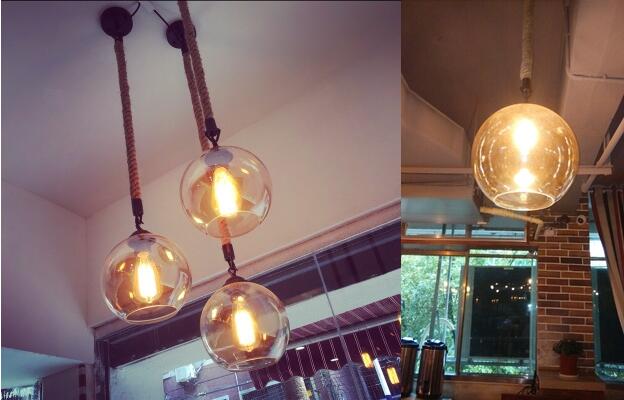 Kiven Glass Rope Globe Shape Pendant Light Glass Ball Lighting Mondern Ceiling Lights
Product Number: MS009
$66.99
High quality glass chimney,Downy Lamplight, Clean and Transparent, Artistic aesthetic feeling

Innovation, craftsmanship and grace come together in this stunning design, and the materials are top-drawer

Diameter:9.83"(25cm) Height:11"(28cm) Rope lenght:39.3"(100CM)

Voltage:110V ,not including the bulbs

APPLICATION: Hallway, Living room, Dining room, Coffee bar, Restaurant, Foyer, Lobby, Bedroom, Kitchen island
This petite glass globe pendant hangs with rope line. Each orb holds an Edison bulb and reflects the light into its surroundings. Delicate over a counter or dining table, alone or aligned with a grouping, this bit of brilliance adds a sparkle to your space.
Type: Glass Globe Shape Pendant Light
Diameter:9.83"(25cm) Height:11"(28cm) Rope lenght:39.3"(100CM)
APPLICATION: Hallway, Living room, Dining room, Coffee bar, Restaurant, Foyer, Lobby, Bedroom, Kitchen island
Power: max 60W
Style: Antique, Vintage, Art Deco, Industrial Style, Arts; Crafts/Mission Style.
Note:not included the bulbs
We are a professional lighting manufacturer, working to provide the best quality and the most abundant variety of lighting products. All products in the factory have undergone rigorous safety tests, ensuring that you can use them safely
Installation Tips:
1. For safe and secure installation, please ensure that the electrical box to which this fixture will be mounted is properly attached to a stable part of the structure.
2. As all wires are connected, when unpacking the fixture, be careful not to mishandle wires as damage can occur, resulting in a bad power connection.
3. Do not connect to power output until the fixture is fully assembled.
To reduce the risk of fire, electrical shock, or personal injury, always turn off the fixture, unplug it, and allow it to cool before replacing the light bulb.
Do not touch bulb when fixture is turned on. Never look directly at a lit bulb. Keep flammable materials away from lit bulbs.