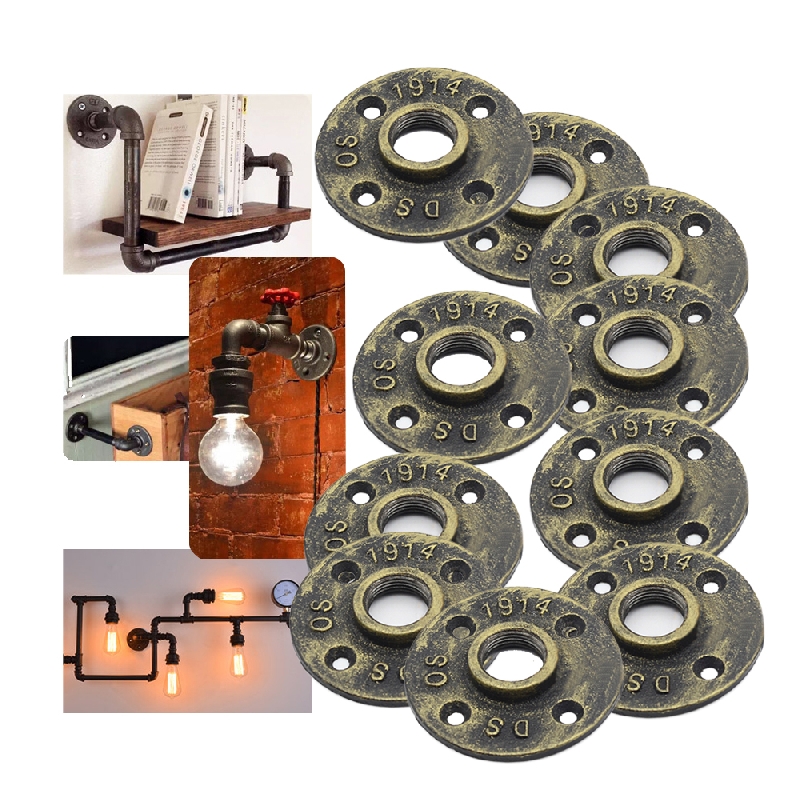 10-Pack 3/4" Threaded Flange with 4 Screw Holes Gold Bronze Vintage Plumbing Flanges DIY Lighting Accessories
Product Number: PJ0019x10
$37.99
The set includes ten 3/4" threaded flanges; each flange measures 3.35″ in diameter.

3/4 INCH PIPE FLANGE PACK of 10 :Multipack quantity gives great valueable. Design ambitious projects for your bedroom, bathroom, kitchen, den, dining room and without worrying about running out of pieces.

4 Screw holes secure your flange to floors and walls of nearly any material. Shelves, clothing racks, towel bars,hooks, table legs, table top,curtain rods and custom furniture.It is the perfect pipe fitting to take your project to the next level.

Build DIY steampunk lamps, rustic shelves, antique bar decorations, farmhouse and retro themed furniture. Your family, friends and guests will love your custom look.

These fittings are for DIY projects only, they are not rated to carry gas nor water.
Item description

The set includes ten 3/4" threaded flanges; each flange measures 3.35″ in diameter.
3/4 INCH PIPE FLANGE PACK of 10 :Multipack quantity gives great valueable. Design ambitious projects for your bedroom, bathroom, kitchen, den, dining room and without worrying about running out of pieces.
4 screw holes secure your flange to floors and walls of nearly any material. Shelves, clothing racks, towel bars,hooks, table legs,table top, curtain rods and custom furniture.It is the perfect pipe fitting to take your project to the next level.
Build DIY steampunk lamps, rustic shelves, antique bar decorations, farmhouse and retro themed furniture. Your family, friends and guests will love your custom look.
These fittings are for DIY projects only, they are not rated to carry gas nor water.

If you are not sure how to install the item, please contact us